Asterisks Quilt pattern by Modern Handcraft
If basting is your least favorite part of the quilting process, followed closely by the quilting itself, keep reading because you can avoid ALL of that!
Katie at Modern Textiles is a professional longarm quilter in Minnesota specializing in computerized, edge to edge quilting. She joined me for a little Q&A sesh to answer all of your questions about longarm quilting today, like: 
"Do I have to baste my quilt?"  (answer: No!")
"How much does it cost?" (answer: less than you think!)
How long does it take? (answer: less than you think!)
"What if my piecing isn't perfect?" (Nobody else's is either, send it in!)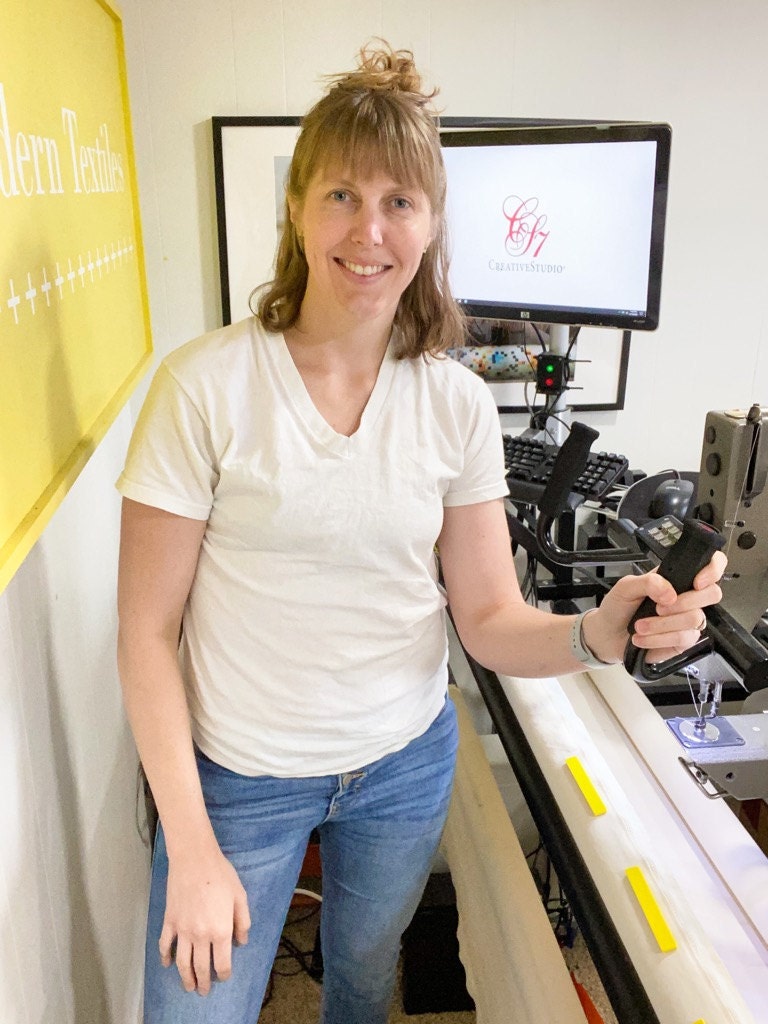 Read on to learn everything you wanted to know but were to afraid to ask!      
What is Computerized edge to edge (E2E) quilting?  
E2E is also known as all-over quilting and is done on a longarm quilt machine.  Think of a longarm as a giant sewing machine attached to a giant table. Your quilt top, batting and backing is attached to the table and the machine glides over the table, stitching out a design as it goes. The design is loaded into a computer attached to the longarm and tells the longarm where to stitch.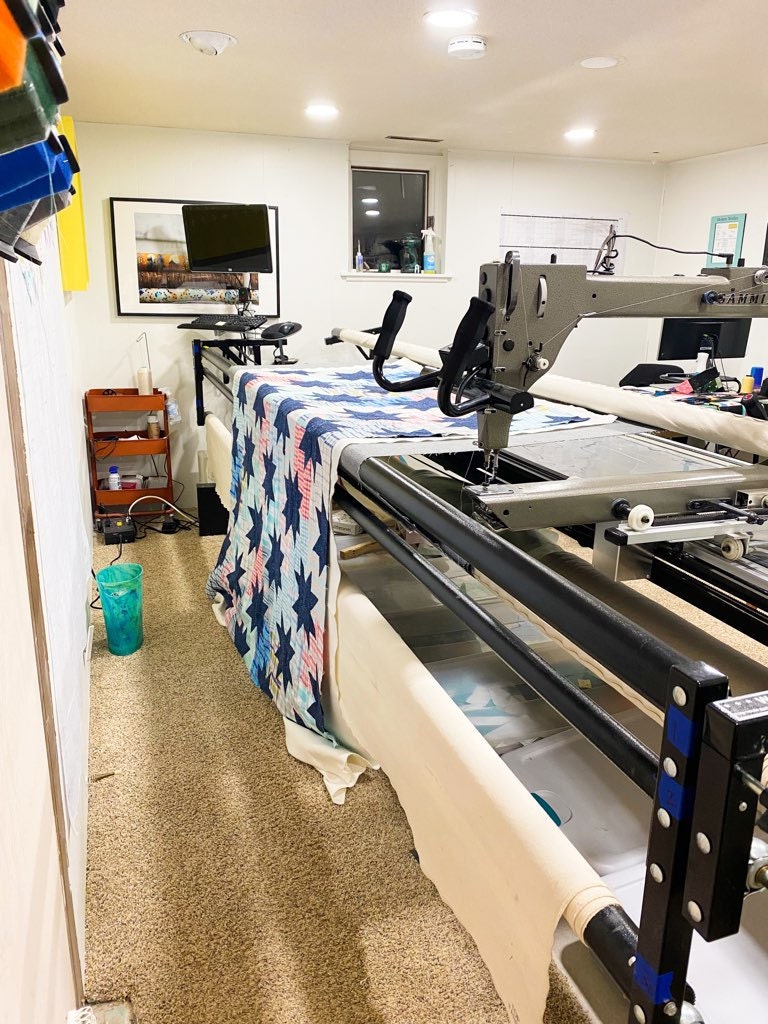 Katie's monster longarm in its new workspace
E2E is the most common form of longarm quilting done because it is the most affordable and fastest method. We'll explore other types of longarm quilting like hand guided and custom quilting in later posts!  Check out the interview with Katie below to get all the details on E2E quilting quilts! 
Lazy Cozy Quilts (LCQ): I remember being really nervous about sending my quilt to a longarmer because I was afraid they would notice all my little mistakes. Do you hear this a lot? 
Katie:  For sure! I think there is a misconception that longarm quilters are precision piecers ourselves! Totally not the case, I'm a firm believer that handmade should look that way. Square quilts are not a thing. Fabric is flexible, it may be square when you squared it up – but pick it up and lay it back down on the floor, my bet is you won't be able to get it square again without trimming, or you're a wizard, in which case, let's be friends!
I can promise you that my quilts are nowhere near perfect. I hate trimming blocks, ironing and squaring. As a longarmer I know the bare minimum I can get away with before loading onto my frame. For example… I don't trim my threads. I'm in the business of making my quilts for the cuddle factor, not to be judged at a show. Also, I don't square my quilts until after quilting, it's more stable this way. 
LCQ: Computerized quilting sounds so... easy, but there's really quite a bit of hands-on work that goes into it, isn't there? Tell me more about your process.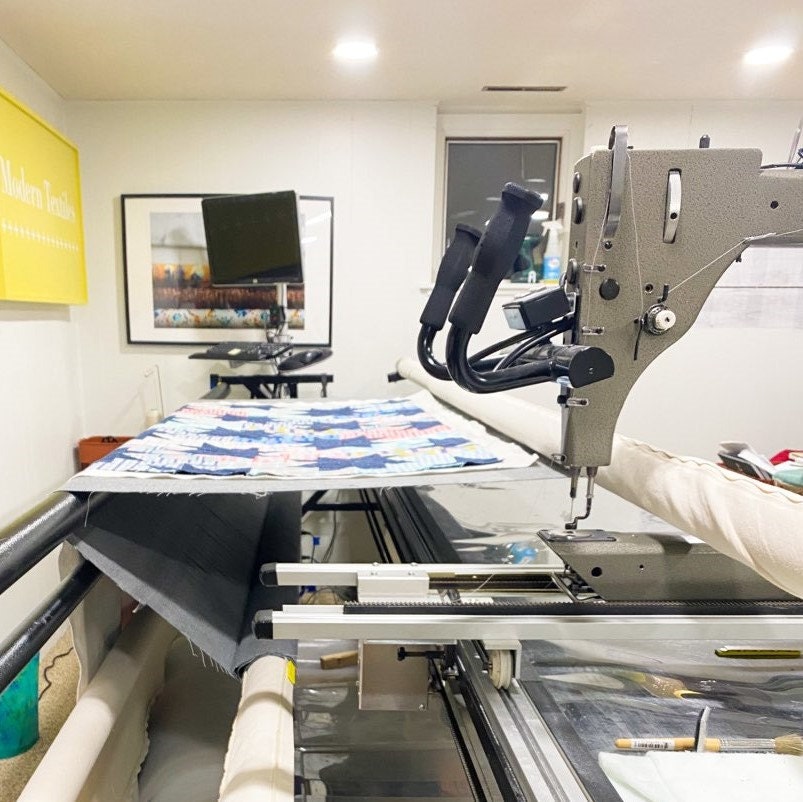 Katie: Oh yeah, as much as I wish it was a load and go, while I kick my feet up and eat bon-bons, it's not. Most longarm quilters have a minimum loading fee for quilts because it is quite the task to get setup. The process goes something like this: 
I measure your quilt top and back to make sure we've got enough backing to cover the top and to be loaded onto the frame. Longarm machines need at least 8" extra backing in width and length to be loaded onto the machine.  
Then I measure out the batting we need for the project. 
Next, I set up your design in my computer using the dimensions of your top.  
It's time to load your quilt backing fabric onto the frame, then the batting. I'll flatten out all wrinkles, bubbles, etc. and make sure your quilt is loaded on as square as possible. 
Quilt top goes on next! I do quite a few adjustments here to make sure the quilt is laying as square as possible. This KEY to ensure the pantograph falls evenly across the entire quilt vertically and horizontally.  
Next step...I baste your quilt top down with a basting stitch around 1/8" from the edge. 
Now's the fun part: Quilting! A few more double checks then I hit the "Start" button! I typically watch the first few repeats of a pattern to make sure my tension is on point and then I am able to get a few things done, until the "pass" is complete. A repeat is one pantograph design; there will be multiple repeats in one row of quilting. A pass is multiple rows that are completed before having to roll the quilt to the next quilting section (known as an advance, more on that below). 
Here is where people think quilters get to eat those lovely bon-bons and sip on hot coffee, but in reality, tending to a longarm is like tending to a baby. When the baby is fed and happy, our lives are pretty darn good. When the baby is cranky and wants a new bobbin, tension is off, we have a thread break, then that coffee goes cold and we just have constantly watch it. Advancing the quilt also comes into play at this point. I have a 30" machine, which means I have close to 24" of quilting space. Once that 24" horizontal band of quilt has been stitched up, then I need to advance the quilt by rolling the quilt onto the take-up bar and moving to the next 24" horizontal space that needs quilting. 
Rinse and repeat alllllll the way down to the bottom of your quilt.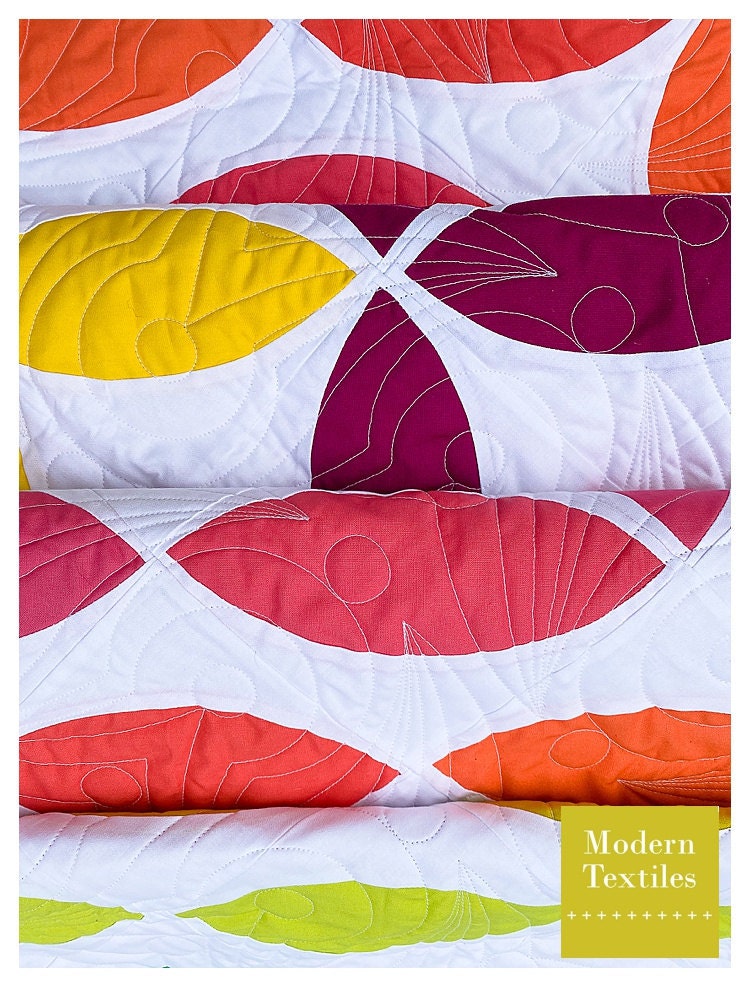 Sonic Bloom
LCQ: What are the most important things we can do to make sure we have a good experience with a longarm quilter?
Katie: This is a tough question! I can't recall a quilt that I just look at and go "OMG what did they send me?" I'm really easy going!
I'd say really make sure you have 8" extra in length and width for your backing. This is CRITICAL! 
If you notice fullness in your quilt when you lay it flat (there are lots of bubbles in the fabric) then try to fix these areas before sending your quilt it. This is most common on borders, where we go off the dimensions in the pattern rather than what the length of our actual quilt border that is required. I'm making a note to myself to make a blog about this soon! 
Make sure there are no bulky seams. If there are, iron seams down again, press them open, or hammer them down (literally use a hammer) to get those pesky mountains to lay flat. 
Trim the top edge of the quilt to be straight. This is really important because it helps me load the quilt all straight and square onto the machine!  
Avoid embellishments (beads, ribbons, etc.) until after the longarm quilting process is complete. If I get quilts with any of this on them, I'd reach out about removing them from the quilt or gluing any type of embellishment that may get caught under my hopping foot that could tear away or flip in an unwanted direction. I'd say even hand quilting should be done after the machine quilting.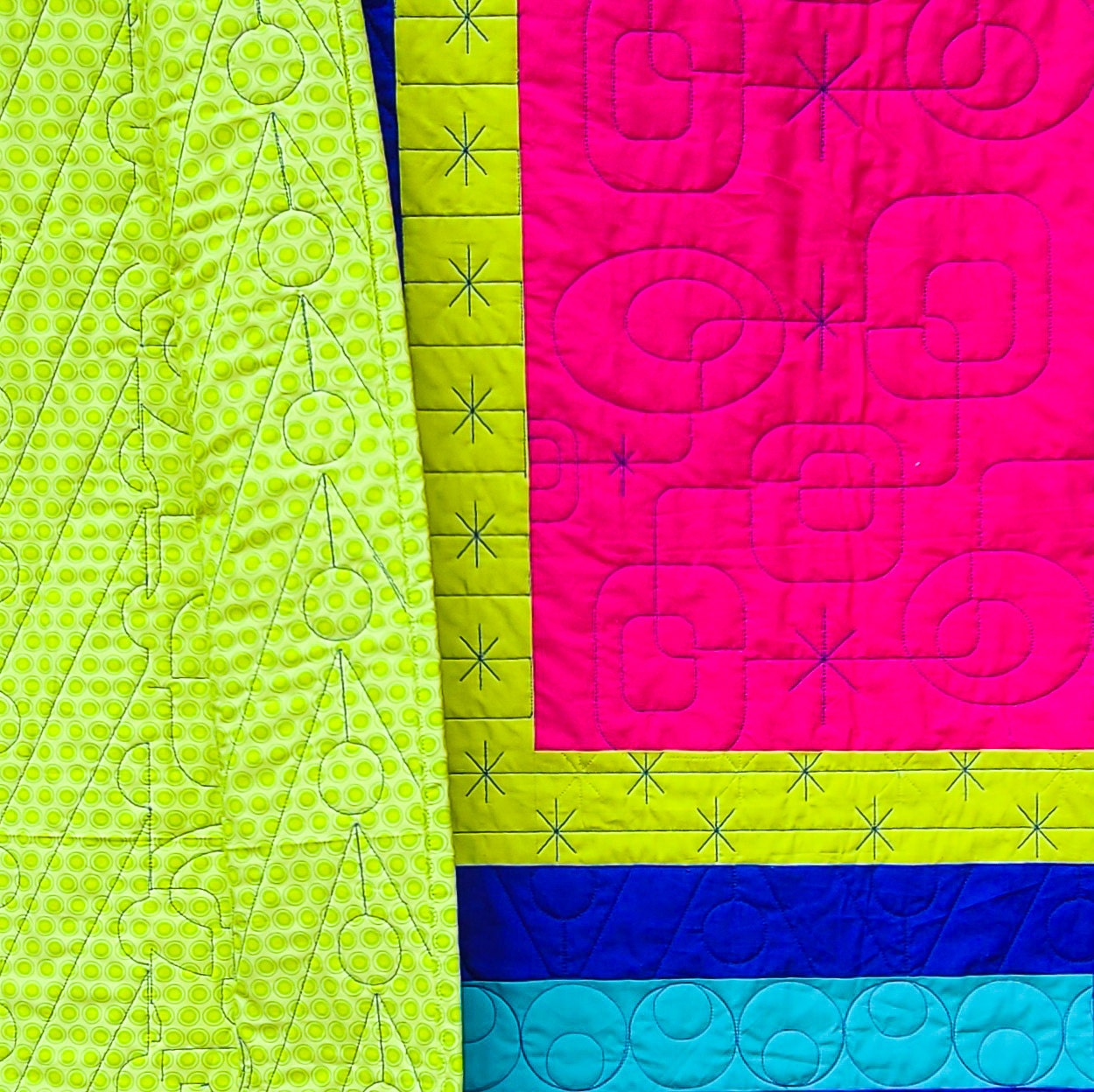 Mod Cabin
LCQ: Tell me about your favorite three quilts you did this year... pics or it didn't happen! 
Katie: So the best part about being a longarm quilter is I get to see amazing quilts that I don't have the time to make myself. Seriously, you all make insane quilts with intricate piecing that just blows my mind! I don't have the attention span for half of them so just seeing them in person is so cool! These ones are quilts that I'm so excited/nervous about the final product, but when I roll the quilt off the frame I do a super nerdy dance and shout "F*** yeah!" Have I mentioned I'm really cool? For example: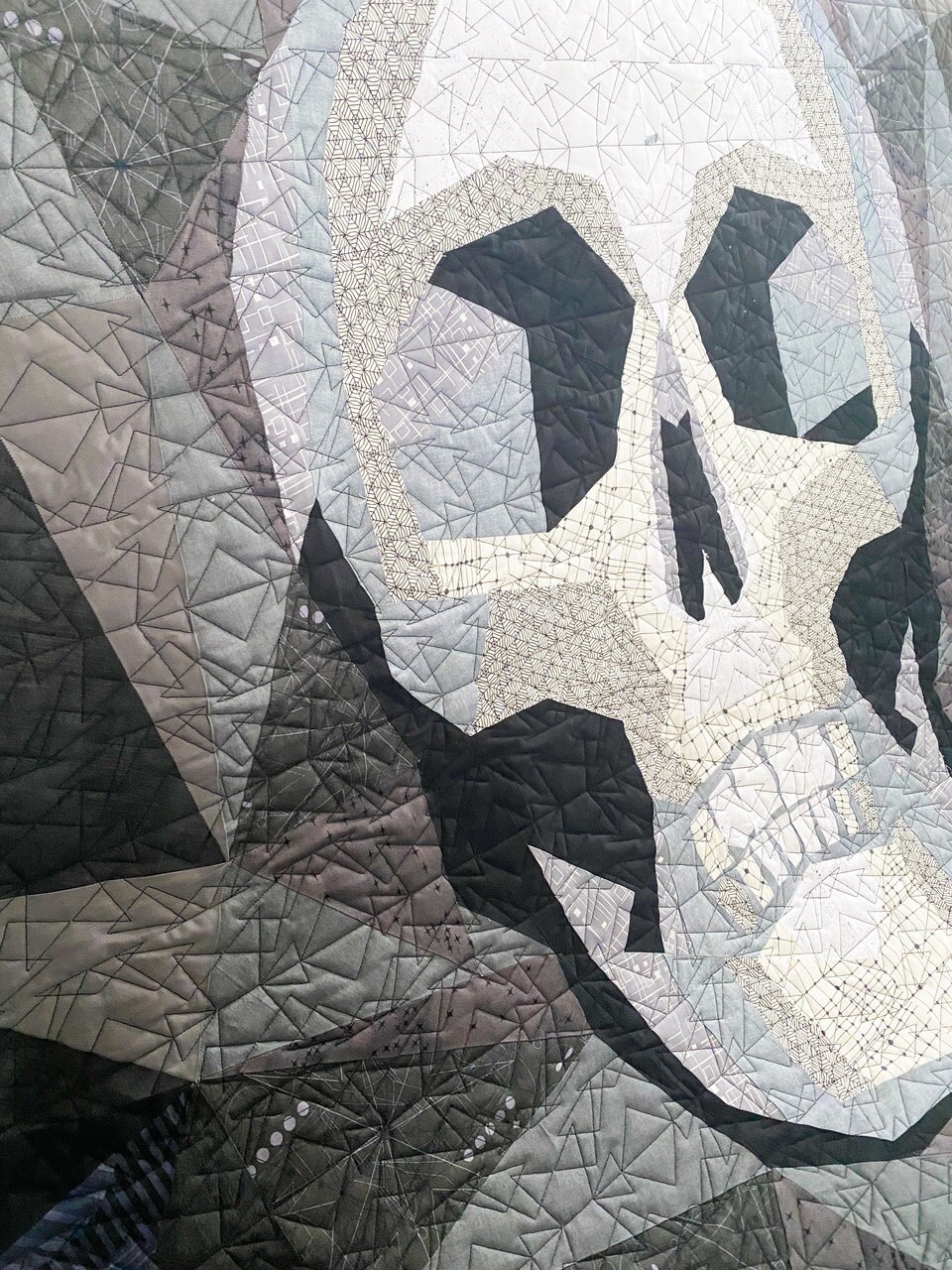 Fractured Skull Quilt pattern by @and_sew_i
Your (Lazy Cozy Quilts) skull quilt – I love edgy quilts, and it still blows my mind all the work that went into this one! Also, this is my first panto I've designed and used on a client quilt, pre-release of my designs!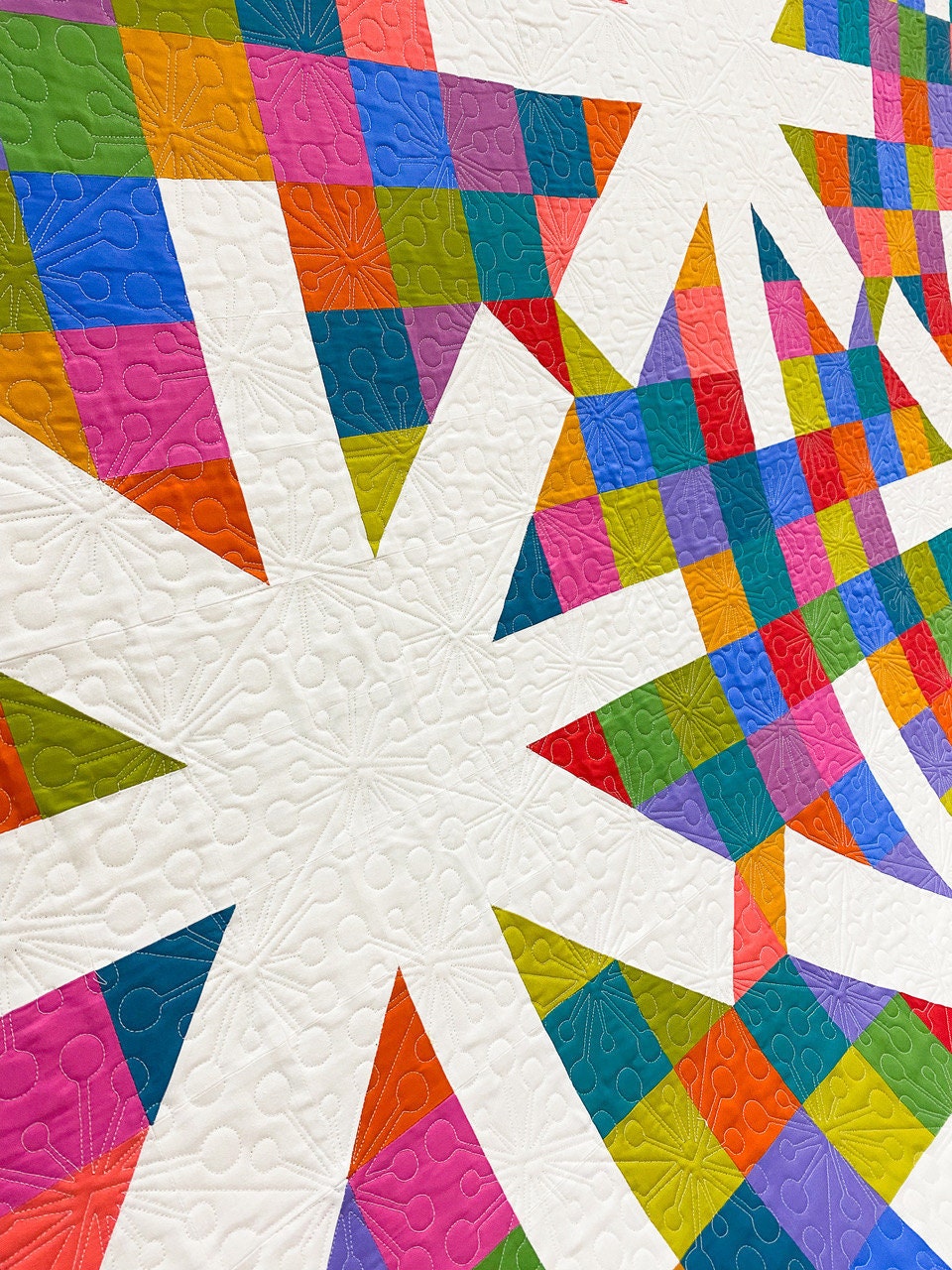 Nicole's (@modernhandcraft) Asterisks Quilt – I knew the late night panto would be fun, but this was next level cool AF.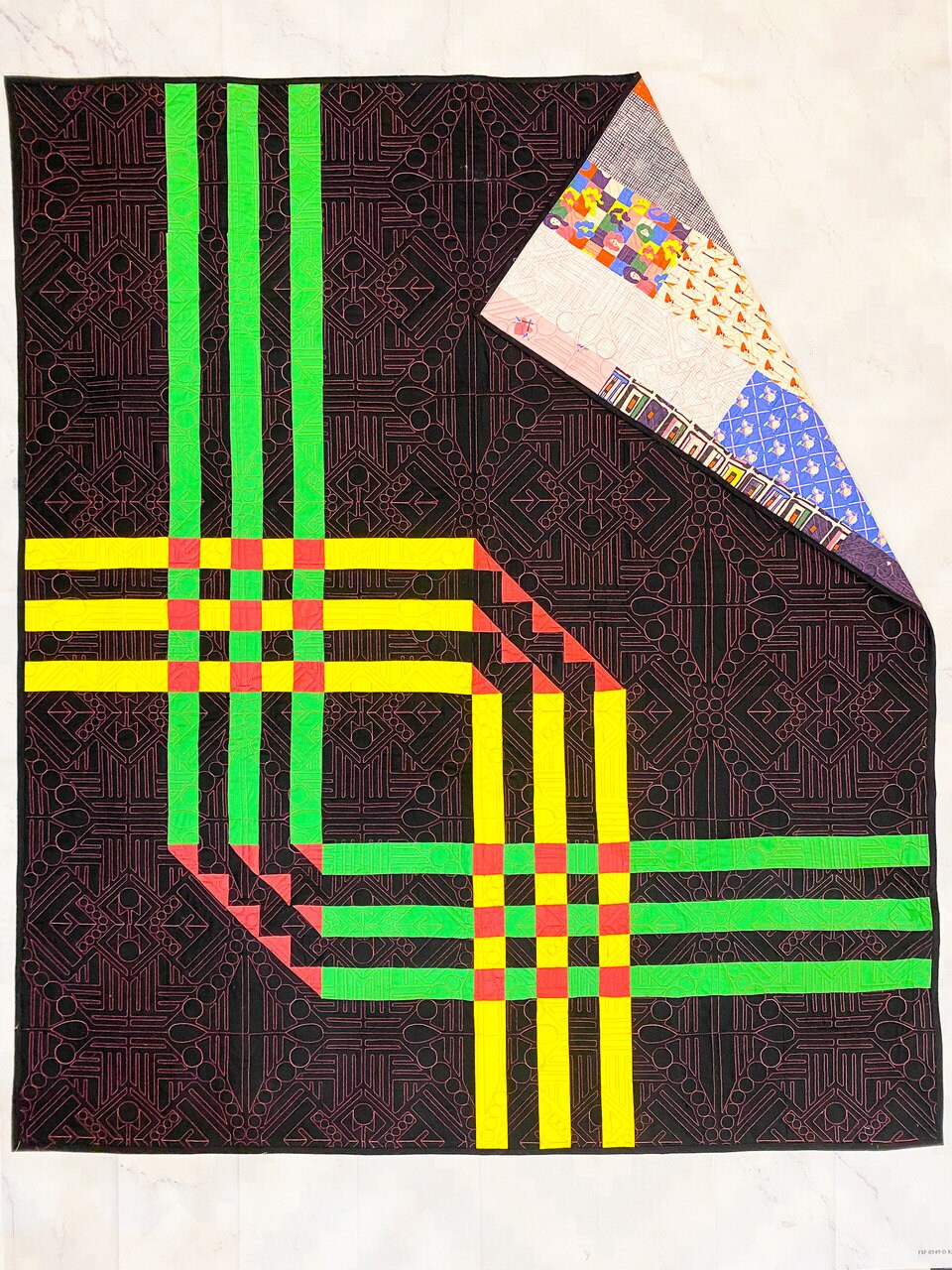 Modern Pipeline by Modern Textiles (she writes patterns AND longarms!
Can I have one of my own on this list?? When I designed Pipeline, I wanted to have a ton of fun with the quilting – so pink thread and the Gridlock Panto made me proud, like a little kid at school with their macaroni artwork! I seriously ran upstairs to show my husband (who wasn't as visibly excited as I would've liked).   
LCQ: How do I calculate the cost of my quilt project? What is (and isn't) included in the price? 
Katie: Super easy! Take accurate measurements of your quilt (I know the pattern has dimensions, but let's be real is anyone that perfect?). Multiply the width (inches) by the length (inches) to get the total number of square inches. Now multiply that number by $.02. That's the quilting price! See example below.  This includes all thread and design costs, but everyone prices a little differently so be sure to ask.  
I also offer batting because it's usually cheaper to buy batting from the lonagarmer than it is to ship it to them. To calculate batting price, take the shorter of the two dimensions and add 6". Now multiply that number by the linear inch price. See my example below. I carry different types of batting, but be sure to ask if you are looking for a specific type like wool or bamboo. I can order it in if I I have advance notice!
Real life example for a 60"x70"quilt   
Quilting:  
60" x 70"= 4200 square inches 
4200 square inches x .02= $84.00   
Batting:(80/20 Batting):  
60" + 6" = 66" 
66" x .33= $21.78   
Total cost: $105.78 + return shipping (around $23 at current USPS Flat Rate) 
If you want a design that I don't already have in my library, I offer to split the cost with you – most pantos are $15, so your cost would be $7.50.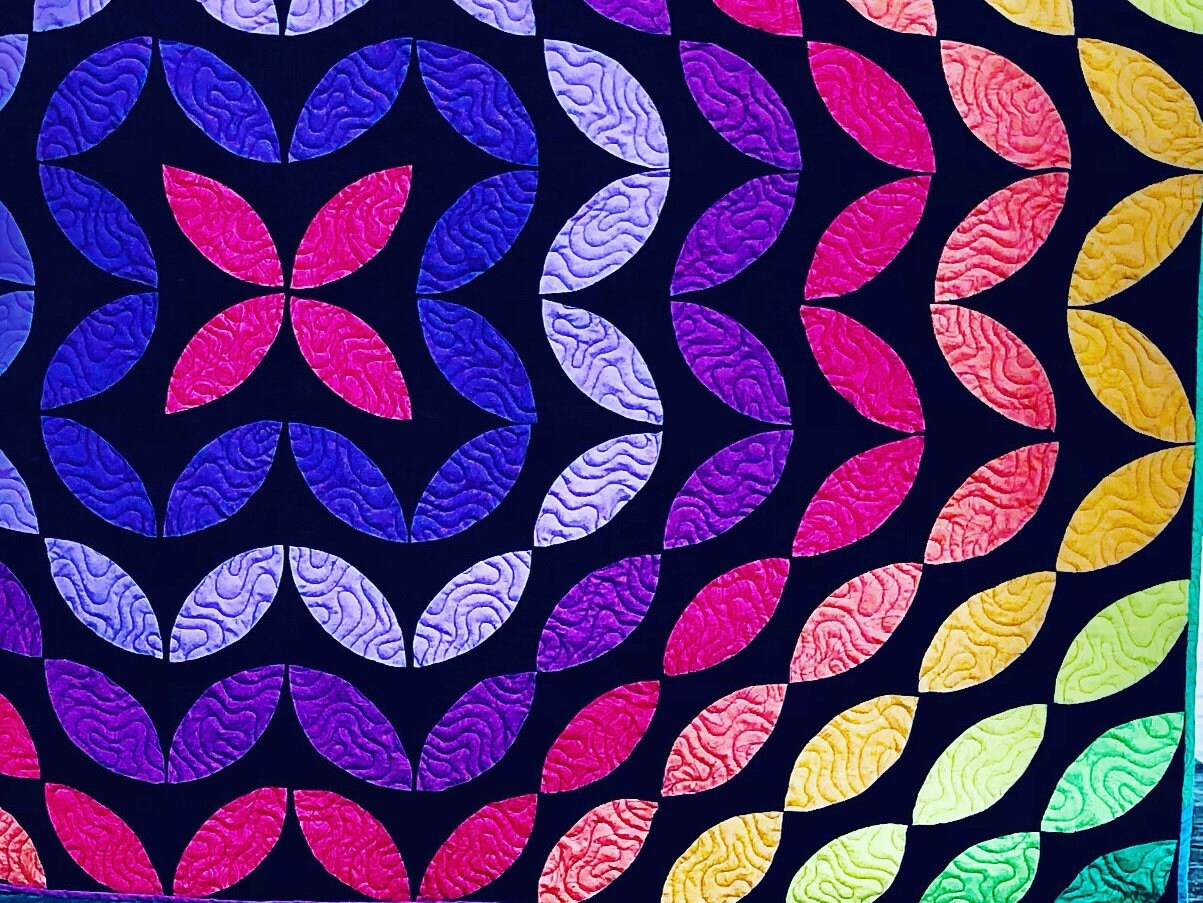 Sonic Bloom pieced by @sewing_scientist, pantograph: Malachite
LCQ: Speaking from experience, there have been so many times that I've spent 20 hours trying to quilt something on my domestic machine and then realized it would have been cheaper and easier to send it out. Because seriously, what's my time and stress worth? A lot!    😱
Katie: Absolutely, I hear this a lot. If the basting or the quilting or the time it takes stresses you out, then it's not fun anymore and then what's the point? I'm here to help!   
LCQ: What is your turnaround time? Does it vary from quilter to quilter?   
Katie: Yes, it can vary depending on the longarmer and the time of year, so be sure to ask in advance of sending your quilt in no matter who you send it to! If you have a certain date that you need it back, be sure to tell us that in advance too.   As of now, my turnaround time is just one week, but as Christmas gets closer that will change. Also, the last day I can accept quilts to guarantee it will be sent back to you before Christmas is December 3rd.    
LCQ: Where can I find quilting design ideas? Can you help me narrow down my choices based on what you think would work best with my quilt?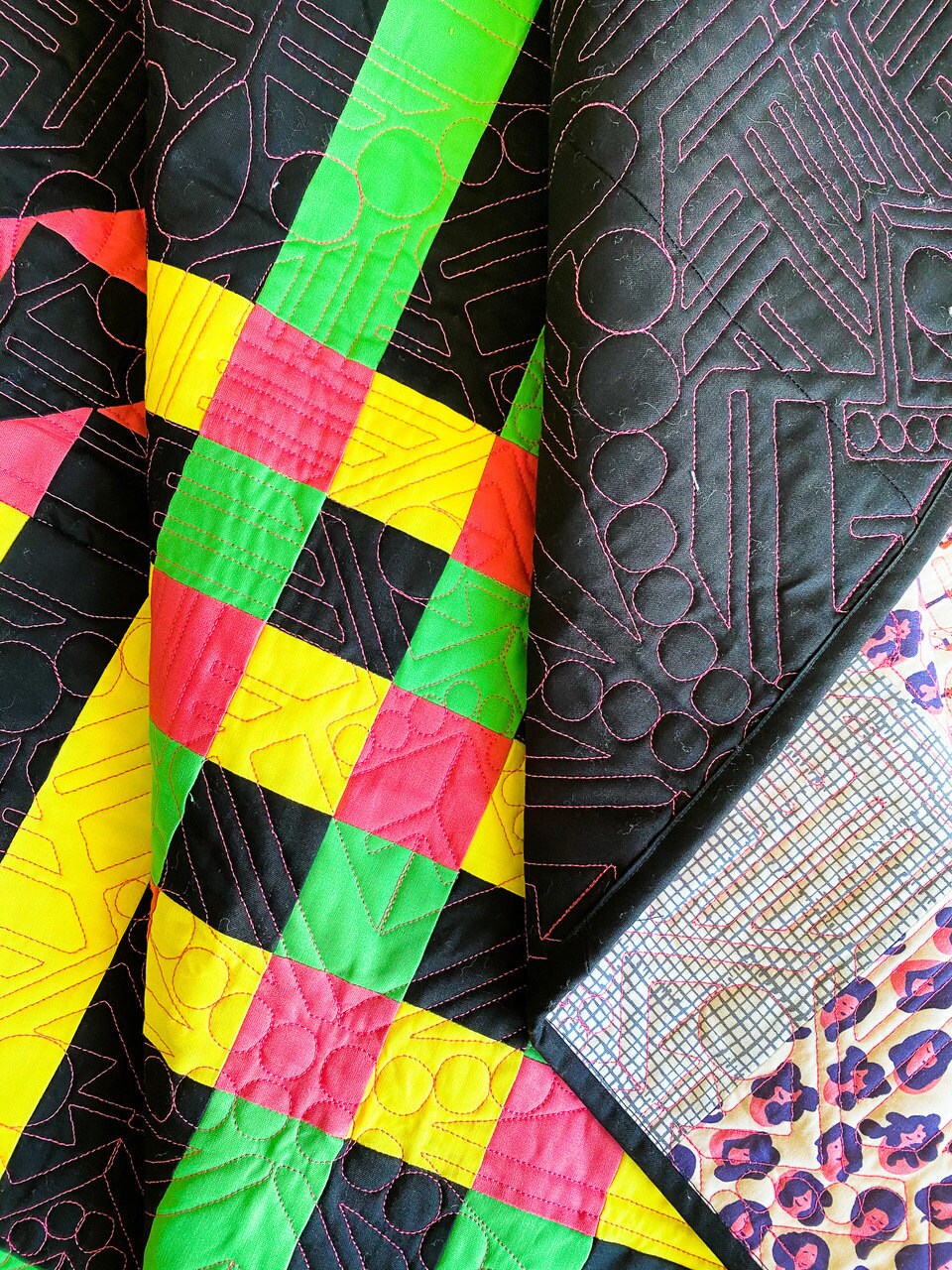 Katie: I love gathering ideas for my clients! There are a few things I do when someone says to me "go wild on quilting" or tells me to choose for them and you can do this too!  
Go to Instagram and check out what other longarm quilters have done for this quilt pattern. Search the quilt pattern's hashtag or check out the quilt pattern designer's profile. 
Use the same idea on Pinterest. I have a longarm quilting design board that I use as a repository for ideas. Feel free to click on the link to visit and follow it for a constant stream of ideas!  
Visit UrbanElementz.com or a few other pantograph websites to look for something super unique! 
BONUS! I'm releasing my own pantograph designs later this month and am so jazzed to offer the wild designs that have been brewing in my brain. They will be in the panto library on my website soon!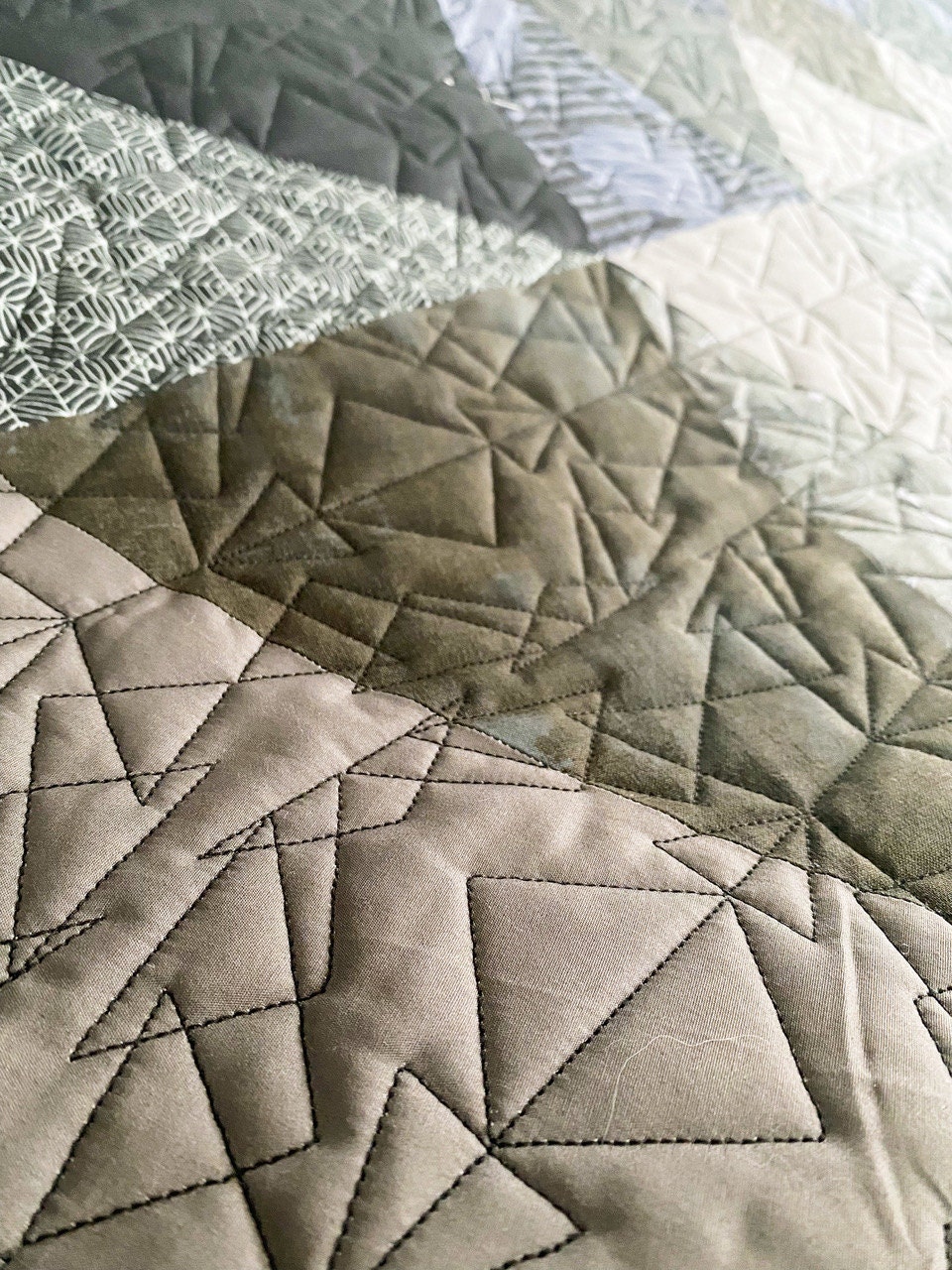 One of Katie's own pantograph designs, coming soon!
LCQ: Thank you, Katie, for taking the time to demystify longarm quilting and answer all of our questions!    
Personally, It's become a lifesaver for me because it gives me more time to do the parts of quilting that I enjoy, and less time doing the stuff I don't like. If you have more questions or are ready to send a quilt in, reach out to Katie here:   
Email: info@modern-textiles.com  
Website: https://modern-textiles.com 
Instagram: @moderntextiles