*As an Amazon Associate I earn from qualifying purchases made thru some links in my posts. Your purchases using these links allow me to continue offering helpful content on my website, thank you! 
Quilting with stencils is like free motion quilting with training wheels. You don't have to be artsy or know how to draw. All you have to do is follow (ish) the lines.  It works great on smaller projects, like this Halloween-themed zipper pouch! 
Here's what you'll need:
Stencil (more on choosing the right one below)
A practice quilt block sandwich
Free motion foot 
Ready? Let's go! 
Place your stencil on the quilt sandwich practice block. If desired, use painters tape to hold it in place.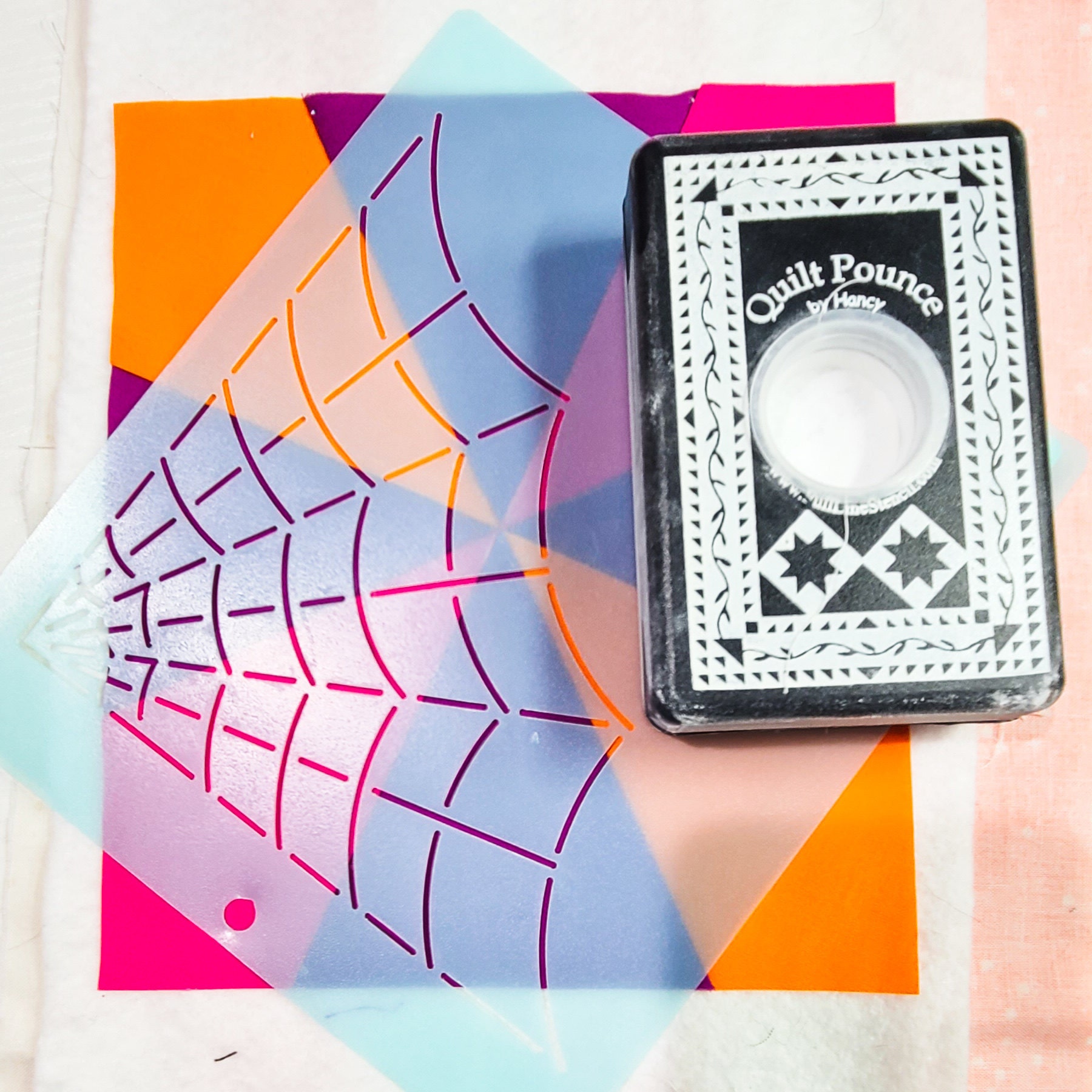 2. Swipe or pounce your chalk pad over the stencil. I like to pounce, but this particular manufacturer recommends swiping.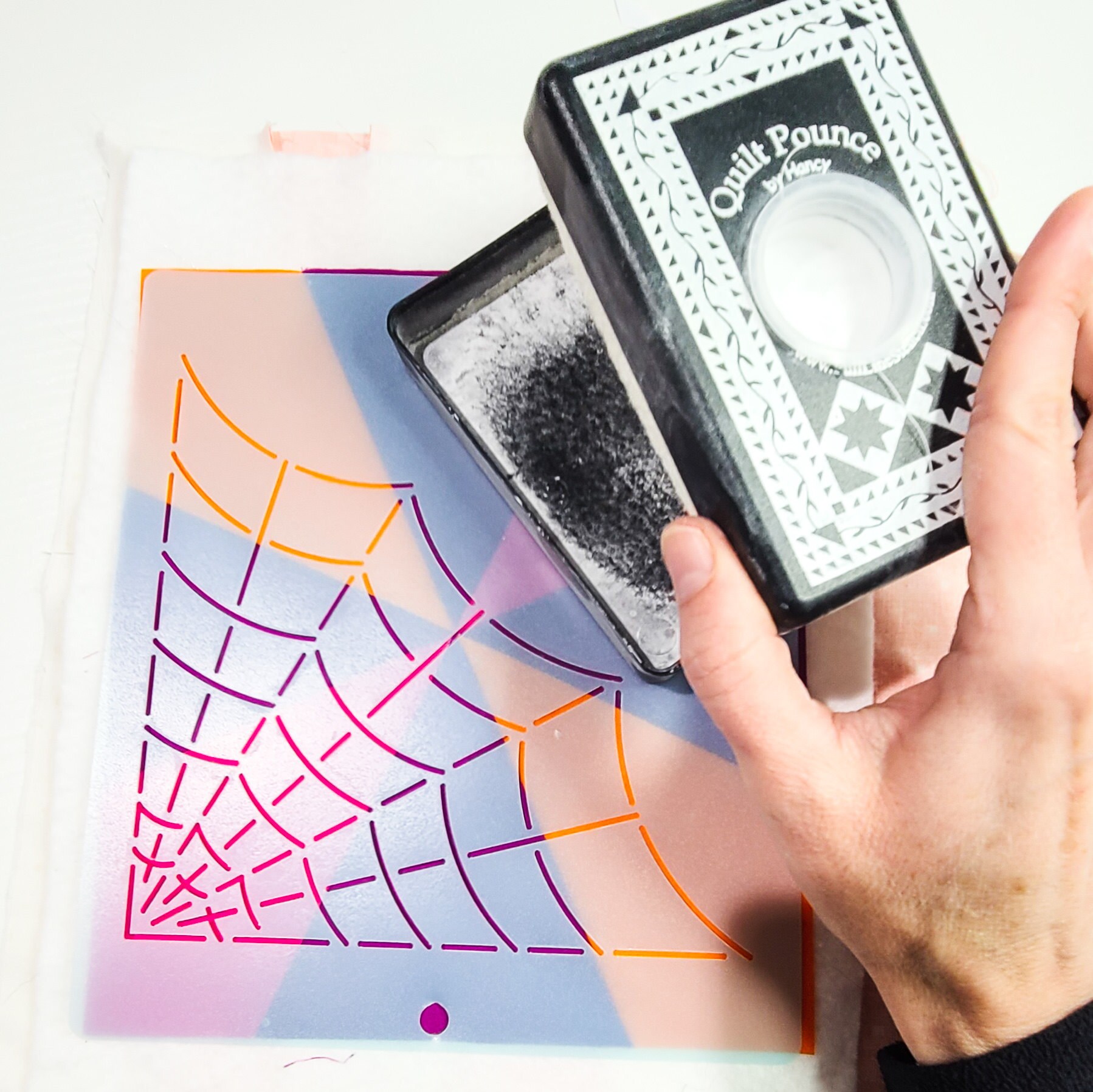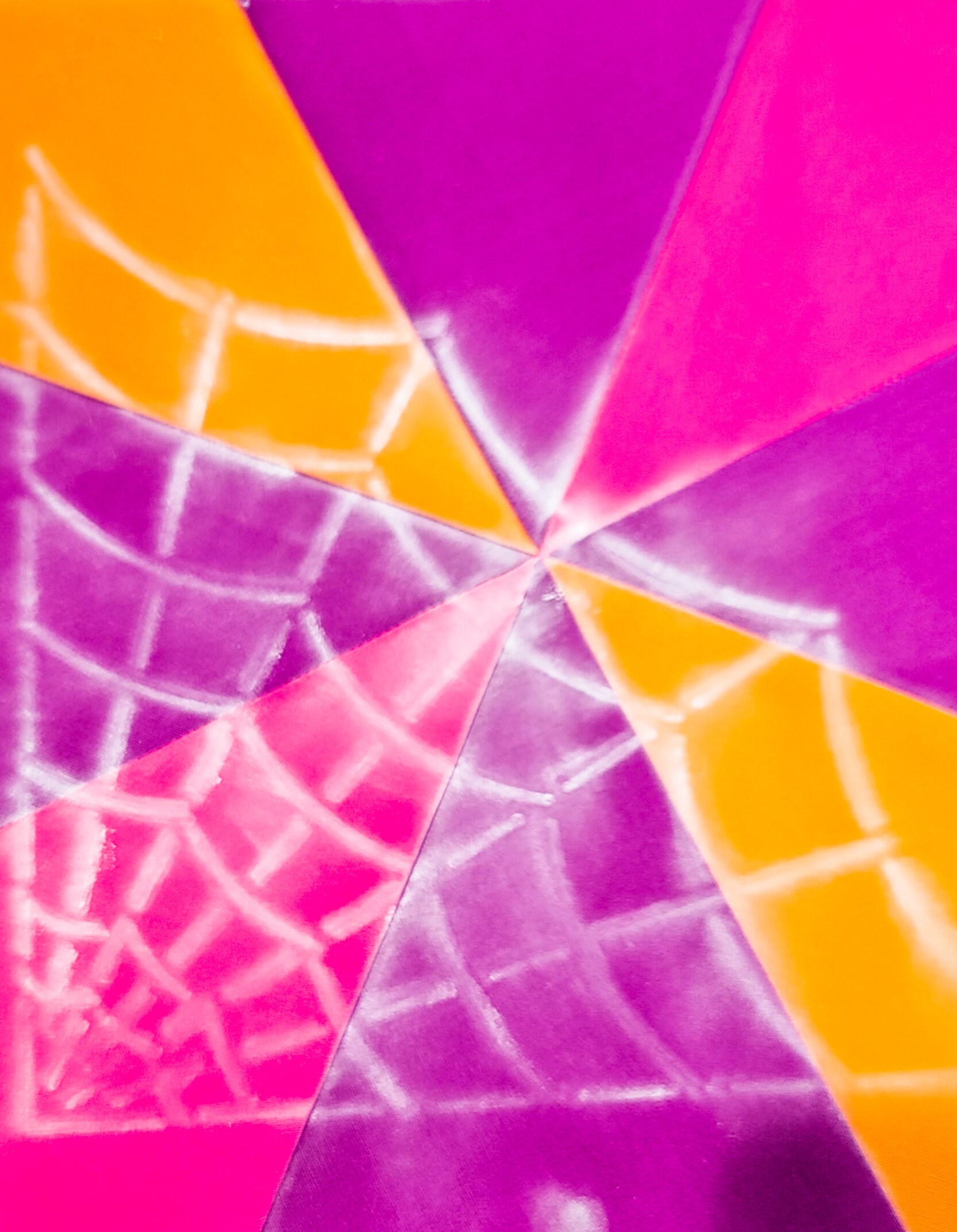 3. Sew along the chalk lines as best you can, but don't worry if you stitch off the line. The lines will wash out so nobody will know if you didn't follow it exactly! Check out this quick time lapse video to see me in action!
How to choose a stencil:
I didn't know it at the time but starting with this spider web design wasn't the best shape to learn on. Look for stencils that don't have a lot of sharp angles. The loopy flower stencil below is great for getting the hang of it.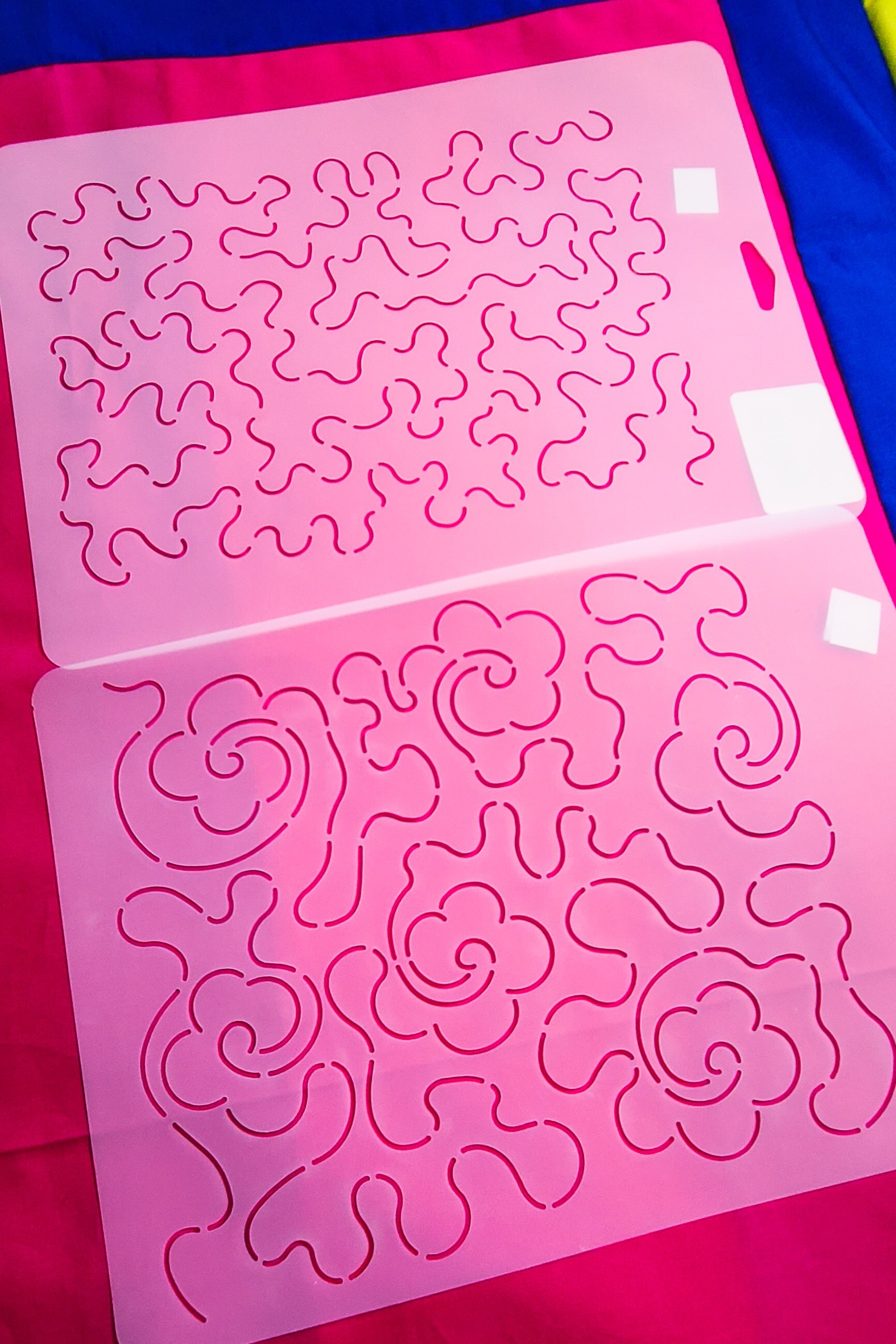 I also found a meander stencil (above) and practicing with that  just a couple of times gave me the confidence to meander/stipple my quilts freehand later. The practice develops muscle memory and before you know it, you won't need the stencil anymore! 
Joanns has a great selection of stencils, usually on sale. Be sure to check out their "clearance corner".  There are lots of options online and in art supply stores, as well. These holiday stencils were an easy way to add a little FMQ to table runners and wall hangings for Christmas projects.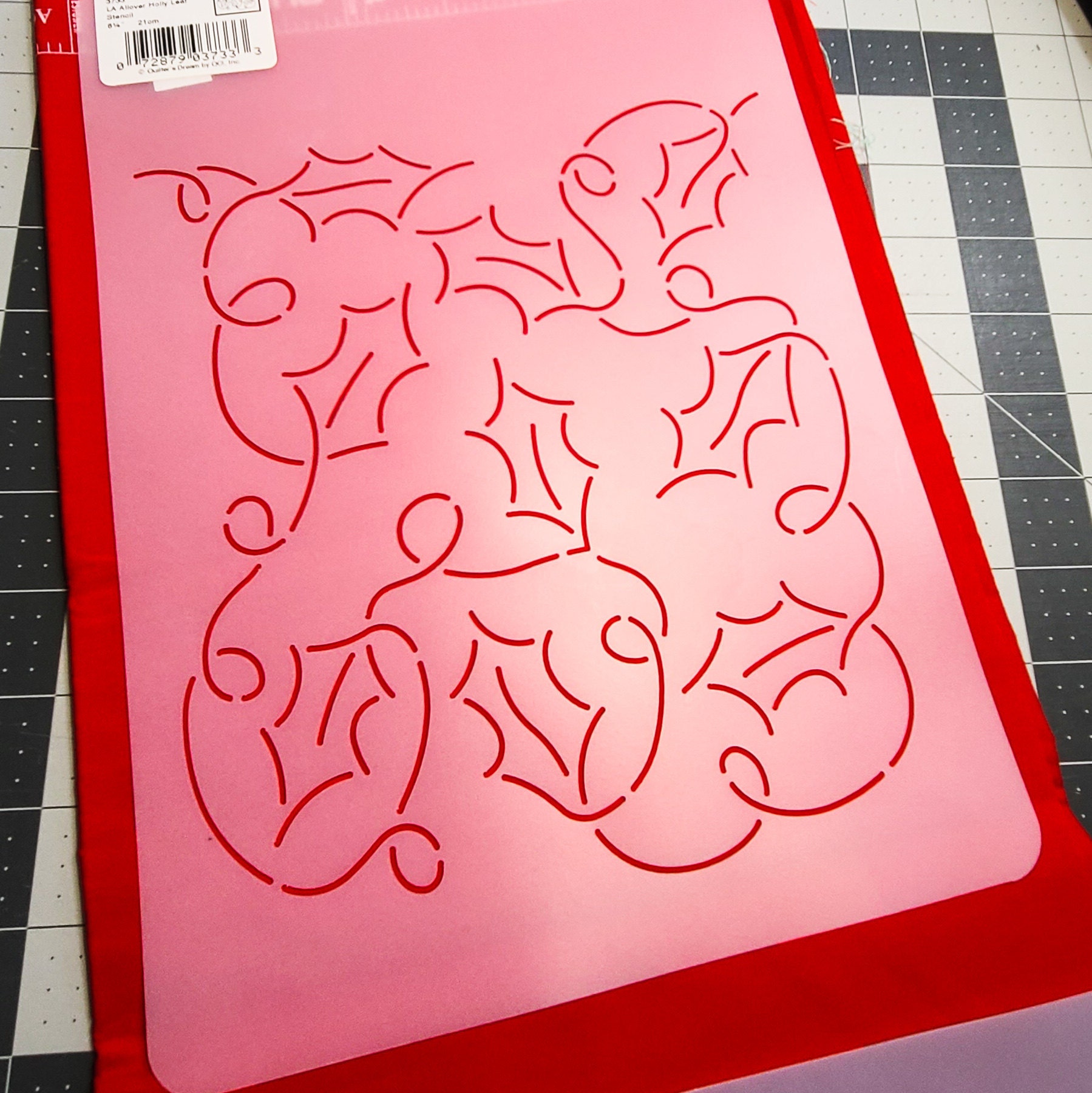 Removing the Chalk
For projects that don't typically get washed, like zipper pouches or bags, spritzing it with water usually does the trick.  You can gently rub the chalk lines out if yours are a bit stubborn. There are two chalk colors available and I've found that the blue is harder to remove.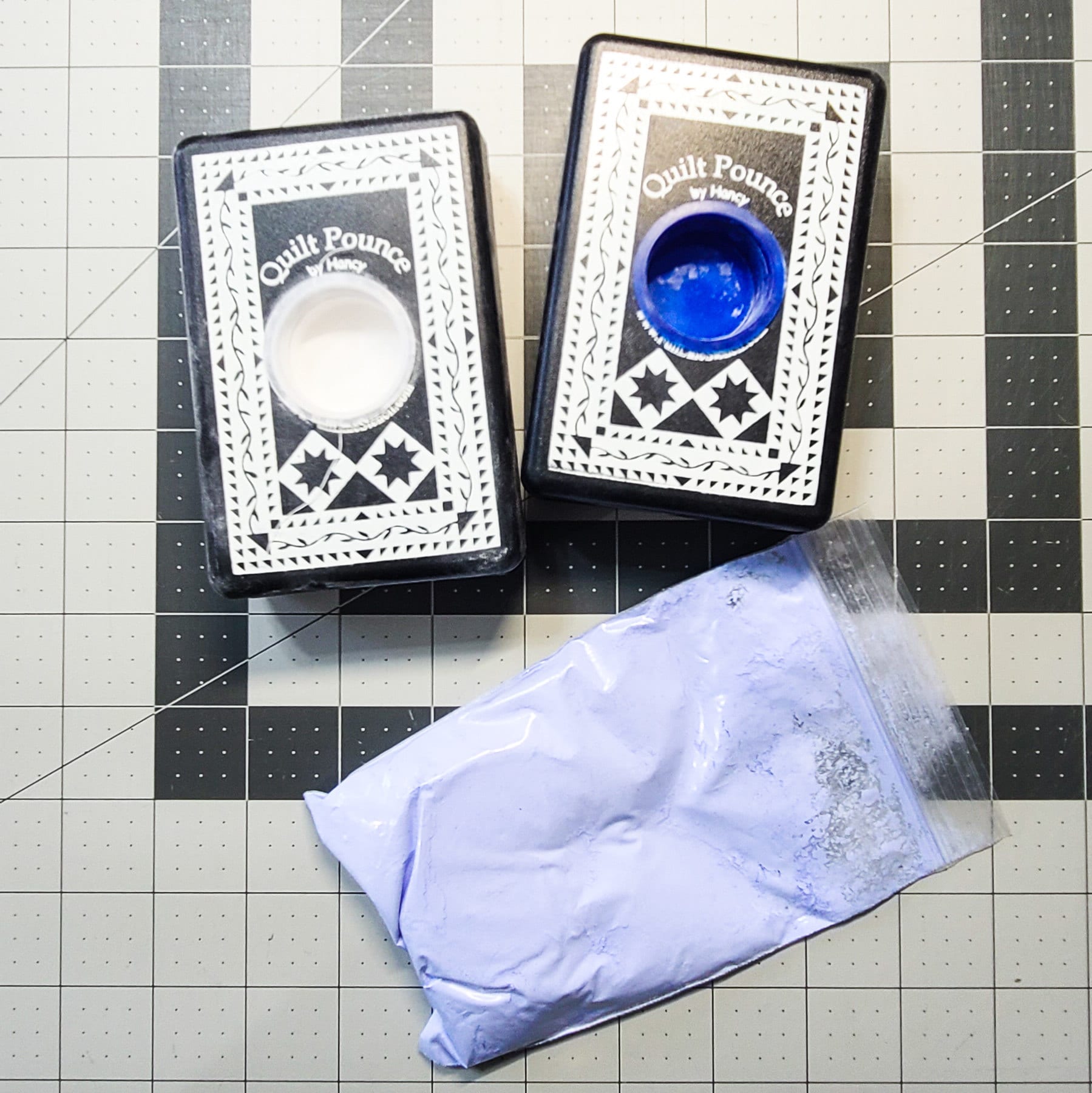 For placemats, table runners, wall hangings or anything else that gets washed, just put it in the washing machine. Pro tip: Be sure to use cold water. I also like to use Color Catchers and add an extra rinse cycle. 
Stencil Quilting Pros and Cons:
Quilting with stencils has its benefits and its drawbacks, but don't knock it until you've tried it! Here are a few things to be aware of before you begin:
Pros:
Stencils are a cheap DIY way to learn how to move your fabric under the needle and build muscle memory, so you can freehand it with more confidence down the road.
It's a great way to quilt smaller projects like placemats, table runners, zipper pouches, and quilt-as-you-go (QAYG) blocks. 
There are stencils for every holiday and design element you can think of. No drawing or art skills required.
Cons:
It's messy. Don't wear your Sunday best while chalking the stencil unless you want to look like you've been rolling around in cocaine. 
Not great for big quilts because you have to stop and stencil out the design over and over again. You could stencil the whole quilt before starting but chances are the chalk will wear off before you get to it. I learned that the hard way when I started on  the quilt below. I won't do that again! 
Stenciled lines are not fine, crisp lines so they're not great for precise designs. They work best as guidelines.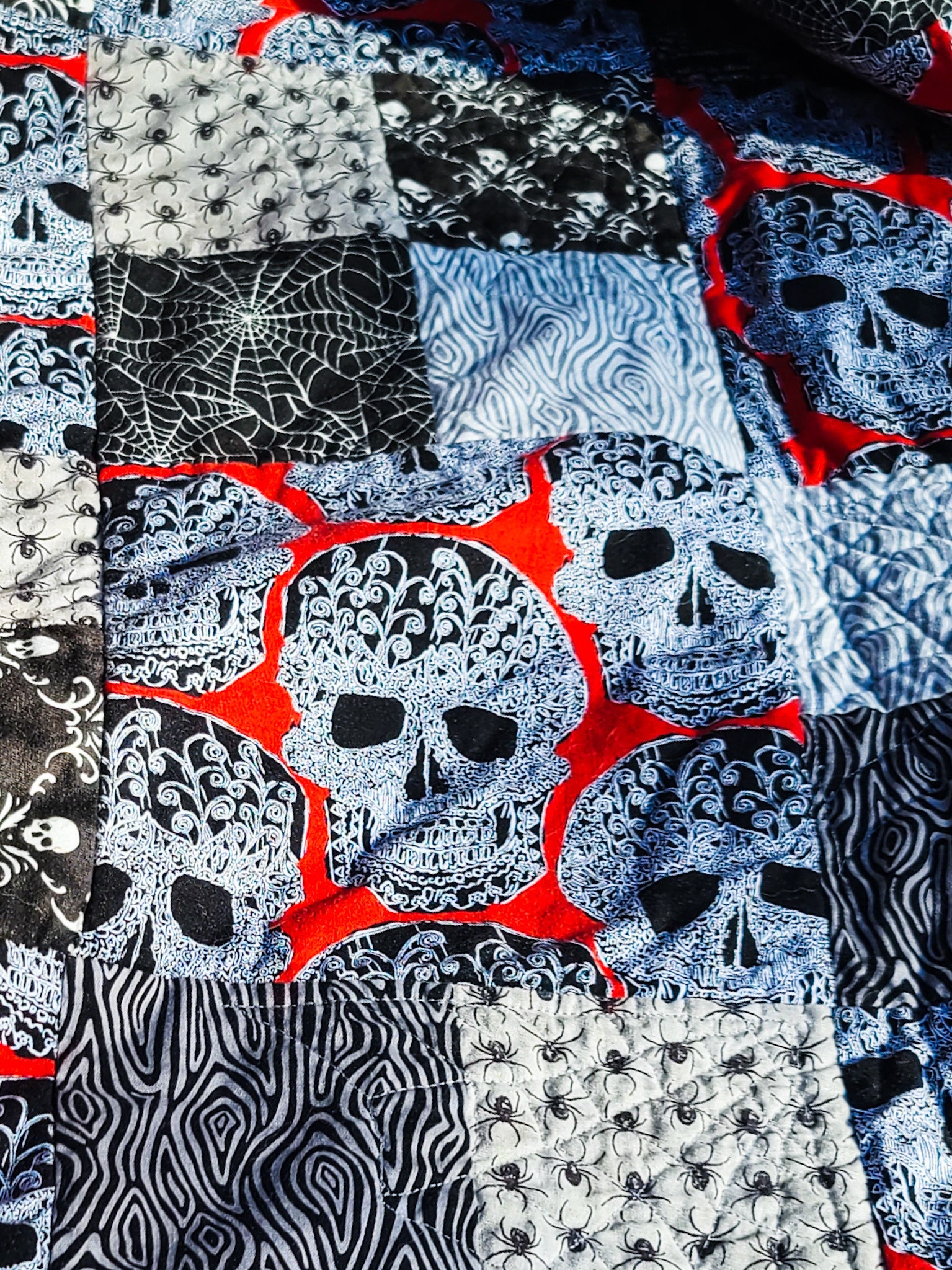 Quilting with stencils is a fun, easy and cost effective way to practice free motion quilting.  Grab a few scrap blocks and a couple of stencils and you will be custom quilting your own small projects in no time!